Sew Creative was a blog that was in my head for years before I started it. I knew what content I wanted on the blog but had no idea what the site would look like.
I hired the fabulous Tasha from My Cute Lobster Designs and then started searching through tons of beautifully designed blogs to figure out why I thought they were aesthetically pleasing. I sent poor Tasha a million and one ideas and she had to weed through them and try to figure out what my style was.
The first design that came back I loved the side column of but the header wasn't what I had in mind. It was actually a really great thing that I din't like it because seeing what I didn't want actually steered me directly to what I did want.
I started googling images of spools of thread and found this BEAUTIFUL image by the insanely talented Cassia Beck in her Etsy shop Lola's Room.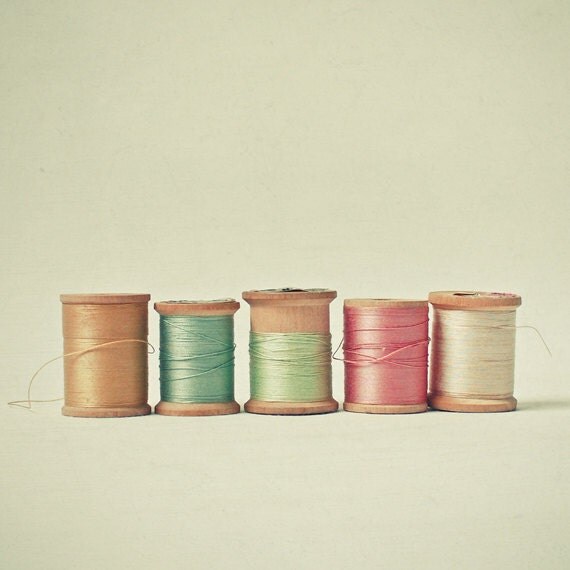 I stared at the image constantly for the first few days. I'm not a super talented photographer like Cassia is… but could I recreate something half as good, with my own spin on it?
With Bean at daycare and Turtle in his bumbo chair watching me I pulled out a few vintage spools of thread that my mom had given me when I was learning to sew at 10 years old. I also picked up a glass container with a few of my favorite wooden flower buttons. I grabbed my iphone, opened up instagram and tried to figure out what kind of surface to use for the photos. A cutting board? Well that was one place to start. I carried everything into the brightest room in our house, our playroom and snapped this picture.
Hmmmm. I was actually very pleased with it. Then it occurred me that the cutting board and wood background would be very difficult to "stretch out" behind the logo of my blog.
I headed down to our garage looking for something more neutral and found a few sheets of bristol board. Worth a try!
Snap, snap, snap. Here are some of the images that I took. Anyone observing would have thought that I was crazy. I would move one of the buttons by a centimeter and then retake the picture. I would take the exact same shot from a higher angle than the one that I took previously. I kept playing, tweaking, uploading to my computer to see what the images looked like big.
This was the one that we finally decided on.
I'm pretty sure that Tasha photoshopped the torn label that is on top of the green spool of thread because it doesn't appear torn in the header.
So what do you think? Would you have gone with the same photo that Tasha and I chose? Do you have another one that is your favorite? Have you designed a blog before? What did you use for inspiration?