Vintage Finds- Granny Square Crochet Afghans
This post and the photos within it may contain Amazon or other affiliate links. If you purchase something through the link, I may receive a small commission at no extra charge to you.
I have a new addiction. Vintage granny square crocheted afghans. I would love to have a few in different color palettes for every single bed in our house and then a few more for our living room and playroom. I don't know why but I love these things so much. Maybe one day I will make my own. I did just sign up for the Crochet Lab on Craftsy.
I thought today I would share a few of the granny square afghans that I've bought over the past few months as well as show you a few of my favorites from Etsy. Maybe I'll create a few more granny square afghan addicts like myself. 🙂
This was my first granny square afghan. It's lap sized. I love cuddling with it when reading a book on the couch. I bought it at Value Village for $6.99! This one lives in our living room on our reading chair.
This the second granny square afghan I thrifted. I'm usually drawn to lighter colors but I actually really love the bold autumn colors in this one. I bought it at Goodwill for $9.99. When my sister saw it she said "Ooooh. I really like that. If you see another similar one will you get for me?" My mom asked "Are you collecting granny square afghan too?" My sister said "No, but I love the colors in this one." I agree. Maybe once I collect enough of them I will gift her this one. Right now it's living on Bean's bed.
This is my most recent granny square afghan and it may be my favorite. It's not traditional granny square but I think it still counts. I bought it at the Salvation Army for $9.99. When I'm not on maternity leave I work as a children's book publicist and this reminds me of the colors of The Very Hungry Caterpillar. This one lives in our living room. It's a great size for all of us to cuddle under.
Now on to some of my Etsy favorites.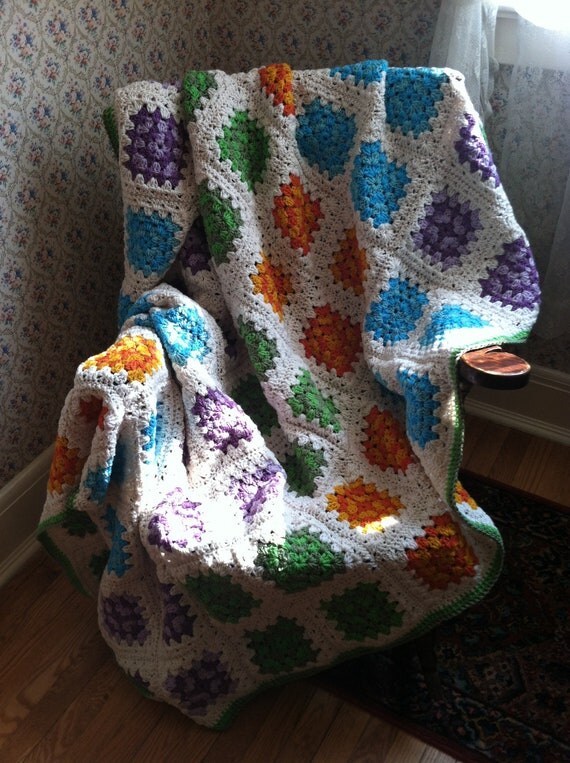 This beautiful 4-Patch Crochet Granny Square Afghan in Orange, Blue, Green & Purple from Peridot Crafts isn't vintage but is handmade by the shop's owner! It's on sale for 20% off right now, the funds are used to help the owner of the shop pay for her grad school.

20% off seems to be a pattern because this Granny Square Crocheted Afghan from DollFood is also 20% off! The dog in the picture is too cute. I really love the black border around the colored squares.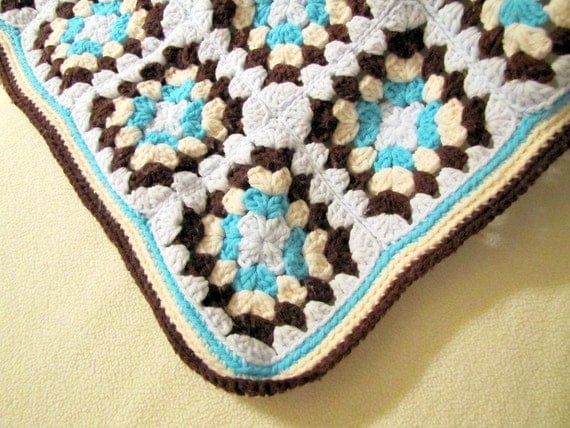 Blue and brown is my favorite color combinations so I'm kind of surprised that I haven't snatched up this Granny Square Bedspread from Barbs Bin. It really is stunning.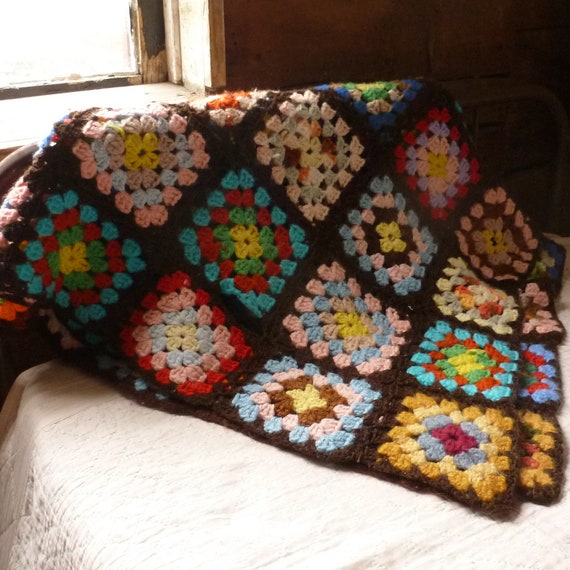 This Hand Crocheted Granny Square Afghan in Stained Glass Colors from Wanted looks similar to one that I bought when I first moved out of my parents house. I'm kicking myself for sending it to Goodwill when I went through an Ikea kick in my 20's.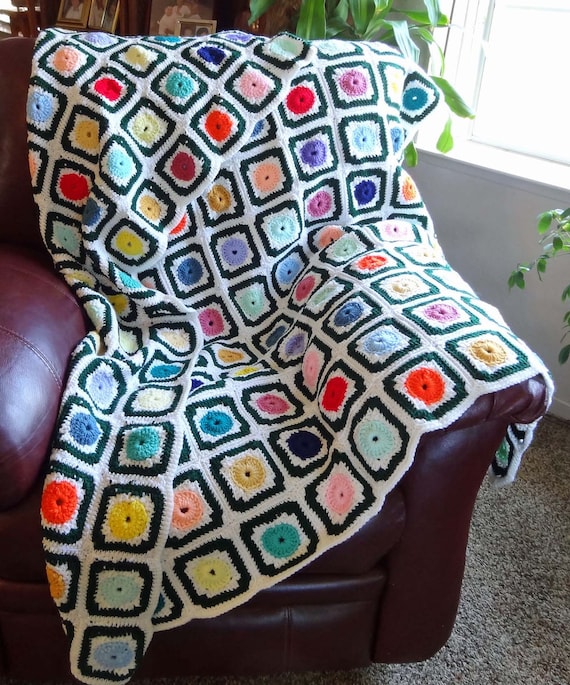 I love the pretty pastel colors in this Multi Colored Granny Square Afghan from Cashout Products.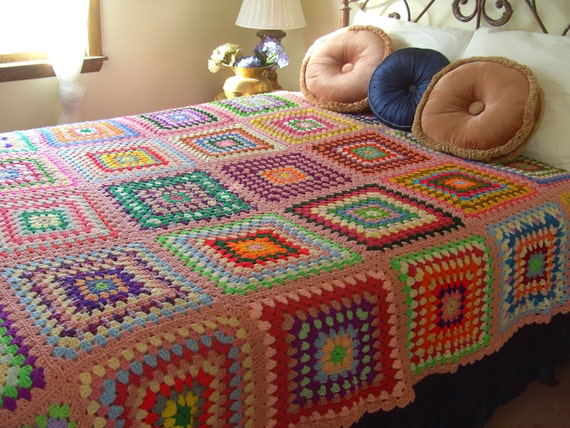 If I ever make a granny square bedspread for Bean's room I would pick a similar color palette to this Vintage 1960's Colorful Granny Square Bedspread from StellaO. I really do love this one.
What do you hunt for when you go thrift store shopping? Do you thrift often? It's a rather new thing for me… I can't wait to show you other treasures that I find.