10 Minute DIY Leather Heart Mom Keychain
This post and the photos within it may contain Amazon or other affiliate links. If you purchase something through the link, I may receive a small commission at no extra charge to you.
This quick and easy 10 minute Cricut project makes a great handmade gift for mom! Learn how to cut leather using your Cricut and make this DIY Leather Heart Mom Keychain! Includes a cut file as well as step by step photos including how to apply htv to leather!
Being a mom is the best job, and the hardest job in the entire world. If you're a mom, you are well aware of that fact. Us moms deserve to be celebrated all year long and especially on Mother's Day. This week I've teamed up with some of my very favorite blogger friends and we're sharing DIY Mother's Day Gift Ideas that you can make on your Cricut. Don't have a Cricut? Well friends, you may just be in luck! We're giving one lucky reader a Cricut Explore Air 2 for themselves AND one for their mama plus two $125 gift cards so you and your mama can buy all the craft supplies you need!!! How exciting is that?!?!?
Read all the way to the bottom of this post to learn how to enter to win and check back each day to see the awesome DIY Mother's Day gift ideas that my friends unveil. There will be new project ideas Monday through Friday this week which you can find at the bottom of this post.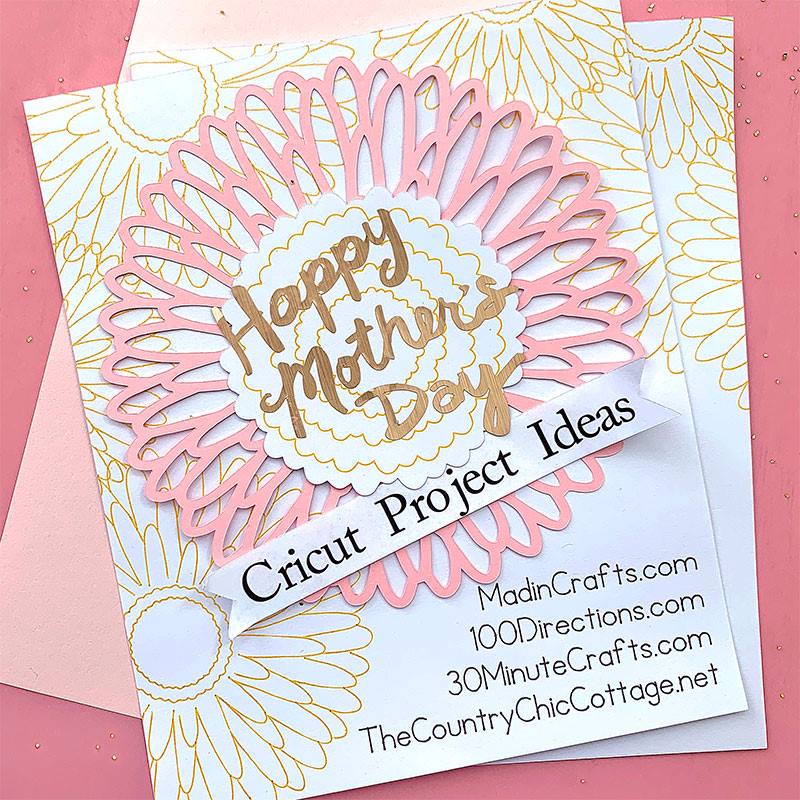 I'm so excited to share today's project with you. If you spend much time hanging out here at Hello Creative Family you know that I love me some quick and easy crafts. This mama doesn't have time to mess around! I love creating beautiful things in as quick of time as possible! If you're like me, then today's project won't disappoint! We're making a DIY Leather Heart Mom Keychain! This project is so quick and easy that it could probably be done in 5 minutes… but I'm going to say 10 just to be on the safe side! I've already done all the design work for you so all you've got to do is open my file in Cricut Design Space, load a cutting mat up with some leather and HTV, iron this, glue that and bingo-bango you've got yourself an adorable keychain!
This is the first time that I've cut leather with my Cricut Maker and I think I'm hooked (in fact I woke up the morning after creating this project and created a second project that I'll share in a few weeks!) The secret to cutting leather with your Cricut is 3 things:
I would also suggest using Cricut Leather, it cuts up really nicely without leaving a ton of mess behind and it's easy to know exactly what setting to cut it on unlike other leather you might buy at the craft store.
The other thing that makes me super excited about this project is that we are going to apply heat transfer vinyl to it! So fun right? Really once you get this technique down the possibilities are ENDLESS! You're going to have so much fun making custom gifts!
Ready to learn how to make my 10 Minute DIY Leather Heart Mom Keychain? Read on!
[hr gap="30″]10 Minute DIY Leather Heart Mom Keychain[hr gap="30″]
Materials:
–Hello Creative Family Mom Heart Keychain Cut File
–Cricut Maker or Cricut Explore (prefer shopping on Amazon? Find the Cricut Maker here and the Cricut Explore here.)
–Cricut Iron-On Protective Sheet
-Something heavy like a stack of books
Directions:
Step 1: Log into Cricut Design Space and then open the Hello Creative Family Mom Heart Keychain Cut File. Click "Make It" in the upper right hand corner. On the following screen click continue (you don't need to mirror your iron-on for this project since the font is a symmetrical font). On the following screen select your cutting machine and then select the material you are using. Cut your iron-on with the shiny side face down on a regular grip mat with your fine point blade and your leather shiny side face down on a strong grip cutting mat with a deep point blade. Use your brayer to really press the leather into the cutting mat, making sure that it's fully adhered so that it doesn't shift while cutting.
Step 2: Weed your vinyl and pop the heart cut from the opposite color of leather from your keychain into the heart cutout.
Remove the vinyl heart from the clear plastic backing and lay the iron-on over the leather, using the heart imprint left behind on the plastic backing as your guide for where to lay your iron-on.
Lay the Cricut Protective Iron-On Sheet over your leather and iron-on and press using your Cricut EasyPress. I pressed at 280F for 30 seconds.
Check to make sure that your iron-on is adhered to the leather and then slowly peel away the clear plastic cover.
Step 3: Fold your heart in half and slide the key ring over it positioning the ring on the rectangular area that connects the two hearts. Lay the leather with the side with "mom" on it facing down. Use your e6000 glue to glue the two sides of the keychain together. Pinch shut and wipe away and glue that might spill out the edges. Put the keychain under a stack of heavy books for 24 hours so that the glue has time to cure.
Voila! You have beautiful 10 Minute DIY Leather Heart Mom Keychain!
Aren't they pretty? I think it would make such a fun little Mother's Day present… or really a great present for mom anytime!
Check out the Mother's Day projects that my friends made with their Cricuts! Check back all week as new projects are added.
Now, who's ready to win a Cricut Explore Air 2 for them and their mama as well as 2- $125 Gift Certificates to buy craft supplies?!?!?
Enter below and tell me in the comments… What's the first thing you'd make with your new Cricut Explore Air 2?
Like this post? We'd love for you to pin it for later!
Looking for even more Cricut Ideas? We have them all in one handy place for your convenience! Find our Cricut Section Here.