DIY Future World Leader Shirt Cricut Cut File and Instructions
This post and the photos within it may contain Amazon or other affiliate links. If you purchase something through the link, I may receive a small commission at no extra charge to you.
Inspire kids to create a future full of kindness and respect with this DIY Future World Leader Shirt! Includes instructions and a free cut file for making this graphic tee using your Cricut Explore or Cricut Maker.

Want to win an awesome Cricut Easy Press Prize Pack? We're giving one away! Read to the end of this post for your chance to win!
My mom taught me a very simple rule when I was a teenager. "Crystal," she said. "Never talk about politics or religion at a dinner party. Nothing is sure to kill the mood of a party faster." Politics can definitely be a polarizing topic. I am sure that I have readers both on the left side and the right who visit this site, and the last thing I want to do is alienate anyone or start a big debate. I think that something that we can all agree on is that there is so much bad stuff going on around the world that is absolutely heartbreaking. One thing that gives me great hope is looking into the eyes of my daughter, my son, their friends and other inspiring youth and knowing that one day they are going to accomplish extraordinary things– They are our future world leaders.
A few of my blogger friends, Angie from The Country Chic Cottage, Carolina from 30 Minute Crafts, Jen from 100 Directions, and Jessica from Mad in Crafts recently told me about a blog hop that they were planning. "It's a whole week of iron-on crafts," they said. You know how much I love my Cricut and in particular making shirts with my Cricut so I jumped right on board to take part.
A "few" of our Iron-On Shirt Projects. You can find them all here.
I sat down at my desk and started brainstorming ideas. A few months back I created my DIY Kindness Warrior sweatshirt and I knew that I wanted something with the same kind of feeling. A shirt that had an impact, gave hope and made people feel good.
I had about 10 different ideas written down on my brainstorming page when the idea for the DIY Future World Leader shirt hit me. I knew immediately that it was what I wanted to make. There is something about seeing my daughter wearing this shirt, and imagining a future with more females in leadership roles that makes me super excited.
I hope that you find this shirt inspiring too and that you make them for your children and grandchildren. I hope that it makes you look forward to a future that is lead by our children!
Read on for the free cut file for my DIY Future World Leader shirt and instructions for how to make it along with our awesome giveaway. Happy Making!
[hr gap="30″]DIY Future World Leader Shirt[hr gap="30″]
Materials:
–Future World Leader Design File
-Shirt
-Measuring tape (I used the one from the Cricut Sewing Kit)
–Cricut Iron-On in your favorite colors and types (I usedCricut Glitter Iron-On in Black Gold)
–Cricut Maker or Cricut Explore (prefer shopping on Amazon? Find the Cricut Maker here and the Cricut Explore here)
–Cricut Iron-On Protective Sheet (Technically optional but I find this invaluable when using Iron-On especially when layering vinyl)
-Iron or Cricut EasyPress (prefer shopping on Amazon? Find the Cricut Easy Press here)
Optional: Cricut Bright Pad for weeding, Cricut Brayer Tool (this is a tool that I LOVE for making shirts. I rub the brayer over my design after the first press to really make sure that the design is adhering to the fabric.)
Step 1: Log into Cricut Design Space and then open my Future World Leader Design File. Measure your shirt to decide how large you want the design to be. Adjust the size of the design and then click "Make It".
Step 2: Click the "Mirror" button located under the material size on the left hand side of the screen. Click Continue.
Set your dial to custom if using a Cricut Explore and select glitter iron-on from the material menu.
Place your Iron-On material on your cutting mat with the shiny glitter side facing down. Load your Cricut with the mat and then click the cute little Cricut C to start cutting!
Step 3: Use your weeding tools to weed away the excess iron-on material around your design.
Step 4: Apply your design to your shirt using an iron or Easy Press. Preheat the shirt, lay your design down, press according to the instructions for the iron-on you are using from both the front and the back of the shirt. I love using the Cricut Iron On Protective Sheet and Cricut Brayer Tool when applying iron-on to clothing. The protective sheet is especially valuable when layering iron-on, however even with a solid design I find that the protective sheet helps distribute the heat more evenly than a towel. The Cricut Brayer Tool is great for really pushing your design into the fibers of the clothing. The trio of the Cricut EasyPress, Cricut Iron On Protective Sheet and Cricut Brayer Tool have made the process of creating shirts so much easier for me than when I was using an iron and a towel.
Peel away the clear plastic protective sheet that's attached to your iron-on and voila! You have a gorgeous shirt that will hopefully inspire future world leaders!
Like this post? We'd love for you to pin it for later!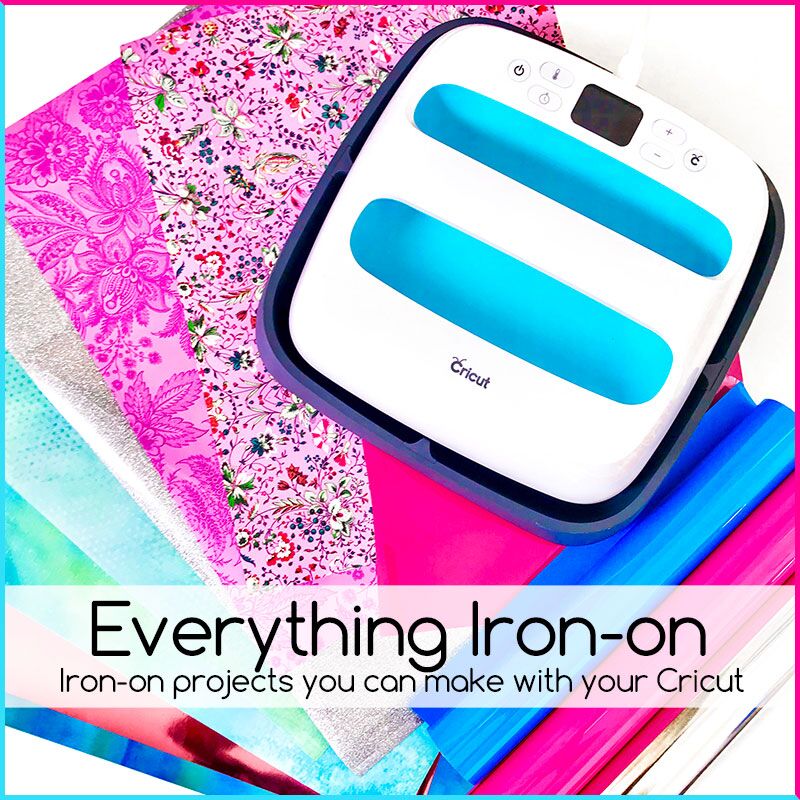 Want more ideas of things to do with iron-on? Make sure you check out more iron-on projects from my other crafty friends!
Want even more Cricut ideas? We'd love for you to check out our other Cricut projects! Find our Cricut category here or by clicking the photo below.
Now for the giveaway!!! Enter for your chance to win a Cricut Easy Press, Cricut Easy Press Mat and an Iron-On Prize Pack!