Decor and Design Inspiration: Gray, Teal and Yellow Color Scheme
This post and the photos within it may contain Amazon or other affiliate links. If you purchase something through the link, I may receive a small commission at no extra charge to you.
BIG, EXCITING, FANTASTIC NEWS! This June my husband and I threw in the towel on city life and moved our family of 5 to an island in the Pacific Ocean. Our lungs are filled each morning with ocean air and we have a million dollar view of the mountains and ocean, and tiny islands spread out in a sea of blue, white crusted waves. We are enjoying a slower pace to life, and adjusting to something called "island time," which means "I'll call you tomorrow" is often "I'll call you next week."
We certainly did not choose our home because of the pale pink kitchen and white, dirty carpet or for the yellowing linoleum floor in the basement. We did however buy it for the serenity of the unobstructed ocean view, the size of living space and it's good bones. It is definitely in need of a face-lift (to be brought into this decade!)
We are re-doing our kitchen and bathrooms. All of the floors will be re-done and every wall painted. It is both an exciting and overwhelming venture and as I write this I am getting set to make a few important commitments.
I am so excited to share the transformation with you, step-by-step.
One of the first decisions I felt I had to make was deciding on the color scheme for the house. I know walls can always be re-painted and draperies swapped out, but what I have in mind is a cohesive look where even the tiniest accent pillow is part of the overall scheme. In choosing a colour scheme, I am trying to build a mood board for each room and I'm starting with my kitchen-family room reno.
My color scheme is light blue, light grey, accents of a darker grey and mustard yellow. I JUST LOVE this combo and it feels fresh and trendy right now. Read on for a peak inside my gray, teal and yellow color scheme Pinterest board that shares ways that others have imagined this combo.
Kitchen Art Personalized Print by 7WondersDesign on Etsy.com
This just feels perfect for my kitchen, which will feature white cabinets with a contrasting island, white subway tile and gorgeous white and grey quartz countertops. I love that the pop of teal draws your eye to the family name.
Featuring Wedgewood Gray by Benjamin Moore
I am in love with Benjamin Moore paint colours. My husband started painting our first floor with Revere Pewter (stay tuned for our media room/play room reveal) and he remarked just today how easily the paint goes on, and how well it covers. In this photo, which I just love, Revere Pewter is on the walls and the door, which becomes a focal point, is done in Wedgewood Gray. Love how these colours come together in this one design. I like the mustard yellow showing up in the pillow.
I love this room with the pops of yellow and the cool-toned walls. I am in love with painted furniture like the dresser shown here and have my own to-die for piece in teal blue. It might make it into my family room, or I might just have to find a new/old dresser to feature the television.
Unless I want to risk divorce, I won't be getting this tufted ottoman. My husband has a thing for ottomans as coffee tables. I guess he's a hard surface kind of guy. But I actually just love them and wish I could grab this yellow one by Target. It would fit perfectly with the color scheme!
No shocker … I love the colour teal. And here this master bedroom features yellow, grey and this gorgeous pop of teal. These canvas prints remind me of our photo transfers and so I might just have to incorporate this DIY into our new family room.
A Blue, Yellow and Gray Living Room
I am drooling over the gorgeous blue sofa featured here! I had a blue sofa once.. and loved it. It didn't make it with me in our cross-country move. Well I have my eye on a teal sofa at the furniture store near my house, and so this picture just pulls it all together for me.
A Party Banner by ALittleFrayed Sold on Etsy.com
This party banner might just have to live on my wall (draped over my upper windows maybe)? It is so cute and the colours are right on point.
Inspired by this Feature Wall in Yellow
When I came across this picture on Houzz.com – I just love Houzz for reno inspiration! – it triggered an idea. A yellow feature wall. Feels gutsy but looking at this, I think it could really look stunning. Hmm…!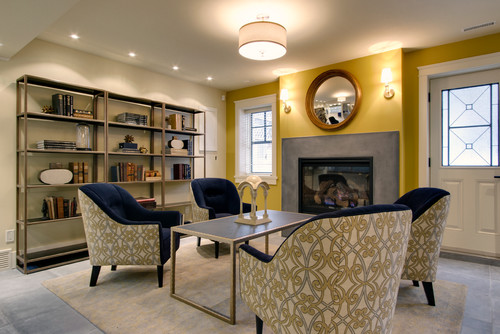 And finally … just love the way this color palette comes together in this photo.
Stay tuned as I share more of my design journey!