Why Every Crafter Needs The Cricut Maker: 33 Project Ideas + Cricut Maker vs. Explore Air 2 Comparison
This post and the photos within it may contain Amazon or other affiliate links. If you purchase something through the link, I may receive a small commission at no extra charge to you.
Still on the fence about if you should buy a Cricut? We're sharing why we think every maker, DIYer and crafter needs the Cricut Maker. We're also sharing 33 project ideas for the Cricut Maker and comparing the Cricut Maker vs the Explore Air 2. Add this incredible machine to your wishlist!

We're counting down the days until Christmas and are busy getting all our handmade gifts ready! My Cricut Maker has been getting quite the workout and I can't imagine my crafting life without it. If you are here on the site chances are that it's because you love crafting just like I do. You love that feeling of pride when you tell someone "I made that", you get a thrill when you put the finishing touches on a project, and (almost) nothing makes you feel happier than an afternoon spent creating in your craft room. You are a maker and one of the most important things about being a maker is having the right tools to help you with your job.
Friends, for me the tool that I keep coming back to time and time and time again is my Cricut Maker. I still remember the day, 4 years ago, that I pulled my first Cricut out of its box. I had recently gotten back from a conference where I got to see the Cricut in action and spend a bit of time playing with it. As I talked to the Cricut employee the wheels in my head immediately started spinning with all of the amazing things I could make with it– custom shirts for my kids, etched glass casserole dishes, laptop decals, bumper sticker, window clings… the list went on and on. As I waited for my Cricut to arrive in the mail I spent hours watching YouTube videos, exploring blogs and compiling a list of "Things I NEED To Make" which kept growing bigger and bigger.
I spent the next three years making countless projects for my blog, myself, family and friends. The crafty side of me was completely hooked on my Cricut, but the sewing girl inside of me was feeling a bit left out. I wished that my Cricut could cut fabric.
Fast forward 3 years after I got my first Cricut…
I was in Salt Lake City Utah, sitting in a conference room surrounded by some of the most creative people in the world at the Cricut Mountain Makeathon. The room was abuzz because there was a rumor that Cricut was going to be unveiling a new product. The light's dimmed, Cricut CEO Ashish Arora walked onto the stage, unveiled the Cricut Maker and over the next hour he and his team shared with us all of the reasons why we were going to love the new Cricut Maker so much. (If you want to see the presentation yourself you can see the Facebook Live I took of it here.) For me, the feature that got me the most excited was the Cricut Maker Rotary Cutter (the sewing girl inside of me was freaking out about all of the possibilities with this new, incredible tool) but I was also extremely excited for the knife blade and the possibility of what the future could hold if you had a Cricut Maker.
You see, what the Cricut Maker has, that the previous machine the Cricut Explore Air 2 doesn't have is an adaptive tool system.
Do you see the tool with the gold head inserted into clamp B above? That's where the magic of the adaptive tool system happens. The unique cutting technology controls the direction of the blade and the cut pressure to match your material. And with 10X more cutting power, you can take on more materials than ever. Each of the gold headed tools that you insert into the adaptive tool clamp can rotate 360 degrees meaning that the possibilities for the types of tools that can go into that clamp are endless.
In addition to the fine point blade and the deep point blade that you can use in the Cricut Explore Air 2, Cricut has also released a rotary blade, a knife blade, a single scoring wheel and a double scoring wheel! And with this kind of technology the sky is the limit for what Cricut will release next!
So what does this mean for you crafty people?
With the rotary blade you can cut just about every single type of fabric imaginable. What would you make with your fabric you ask? Not only can you cut sewing patterns from Cricut, Simplicity and Riley Blake with your Cricut Maker, but you could also create your own patterns that you could share with family and friends! I also love that the Cricut Maker has a fabric pen option that draws stitch lines and pattern piece numbers right on the fabric for you so it's easier to follow along after you cut out a pattern.
For more on using the Cricut for sewing check out my post If You Sew You Need A Cricut Maker- Here's Why.
The knife blade is every DIYers dream! With it you can cut balsa wood, basswood, tooling leather, garment leather, Cricut® chipboard, matboard, craft foam, and more! You can use it to make puzzles, wood signs, jewelry, models, leather accessories and more! I just started using the knife blade a couple of months ago and love it so much.
If you are a paper crafter you are going to FLIP for the new scoring wheels. Making cards, gift boxes, our adorable embossed planner dashboards or another paper craft that you need to fold? The scoring wheel creates extra-deep score lines for perfect folds and a flawless finish on both thick and thin materials giving you professional results every time!
I've spent the last year getting to know my new Cricut Maker and falling more and more in love with it each and every day. I'm a firm believer that the Cricut Maker can turn anyone into a Maker, and that this incredible machine is perfect for anyone who loves to DIY or craft!
Here's a little breakdown comparing the different Cricut Machines.
(Click on image to see it bigger)
My Cricut Explore Air 2 has been good to me, I've created many wonderful projects with it and it's an INCREDIBLE machine. If you've never owned a Cricut before you will be able to do incredible things with it… but at the end of the day the incredible projects that you can make using the rotary cutter, knife blade and scoring wheel are the big reason why the Cricut Maker is superior to it's predecessor. I don't like being told that I can't make the incredible projects that I see other Cricut users make because I don't have the adaptive tool clamp. If you have the extra money I would definitely go with the Cricut Maker. There's just so much more that you can do with it, and with all of the crafting possibilities with the current and future adaptive tools the possibilities are endless.
Still on the fence? Here are some of the incredible projects that I've made in the past year using my Cricut Maker.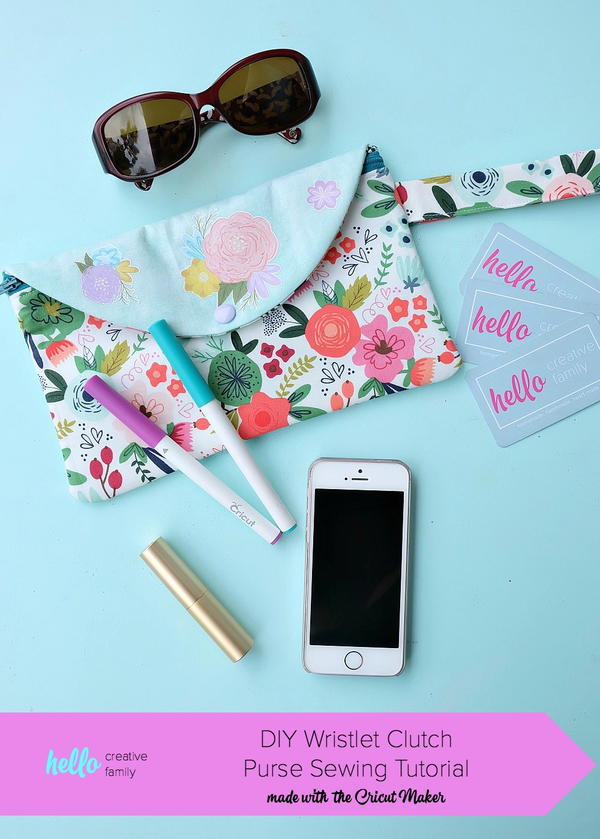 DIY Christmas Word Art Cut File
Galentine's Day DIY Glitter Dipped Wine Glasses
[hr gap="30″]Want to start making with a Cricut of your very own?
Tell me… Do you have a Cricut? Which machine do you own? Which of these projects would you like to make?[hr gap="30″]
Disclosure: Thank you to Cricut for working with us on this post. As with every article on Hello Creative Family, all thoughts an opinions are 100% our own. We only share things we love!
Like this post? We'd love for you to pin it for later!
This is a sponsored conversation written by me on behalf of Cricut. The opinions and text are all mine.